The Cuatro Puertorriqueño Series Learning System
4Jibaro proudly presents the Cuatro Series Learning System! This complete package will take you on a journey that will begin the day you join our learning community.
This series is the fruit of years of loving effort, intensified by a single-minded dedication to revive the Puerto Rican cuatro. This learning system is a culmination of sorts for Samuel Ramos, proud Puerto Rican and cuatro player, in his efforts to renew the heritage of Puerto Rico and its musical elements.
An eclectic mix of music, this collection is a vault of knowledge that Samuel received from his tutors and mentors. In his drive to popularize the cuatro Puertorriqueño, he shares all of it with you through this amazing compilation of music.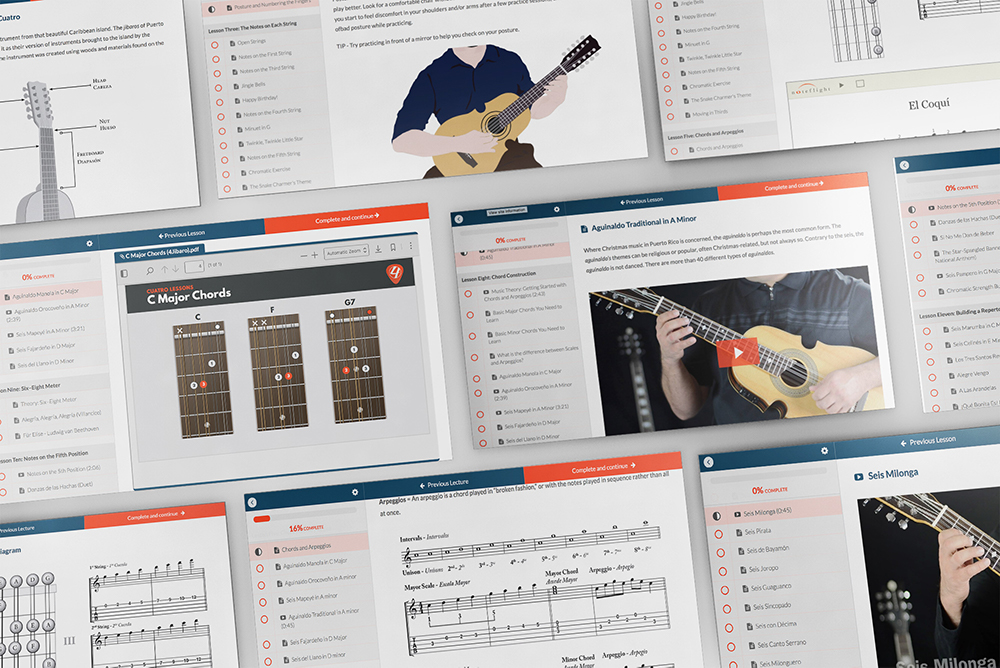 Preserve the rich heritage of Puerto Rico by channeling your interest in the cuatro and transform it into a celebrated instrument. Start playing the cuatro at every party, every birthday and every parranda. We hope you will contribute your bit to bringing the cuatro into the spotlight!

Most of the music you will see in the course have been transcribed for the first time in history. Samuel has dug up tons of these songs and put them together for you to learn. This is his way of preserving his beloved Puerto Rican traditions!
The series not only highlights Puerto Rican music, but also delves into the compositions of Classical music, Latin American music, Ragtime and many more. (So you see, this is a global music learning series!)
Written in standard notation and tablature (TAB) format, the course in the learning series are perfect for those who have a dedicated desire to learn to play the cuatro Puertorriqueño. The series covers a range of lessons that will help guide your musical abilities and transform them into genius!
Resources you'll have access to immediately:
Beginner Lesson for the Cuatro Puertorriqueño
Intermediate to Advance Lessons for the Cuatro Puertorriqueño
Aguinaldos & Seises for the Cuatro Puertorriqueño
Scales, Modes, and Chords for the Cuatro Puertorriqueño
Classical Music for Cuatro Puertorriqueño
Christmas Melodies for Cuatro Puertorriqueño
Danzas of Puerto Rico for Cuatro Puertorriqueño
Beginner Repertoire for the Cuatro Puertorriqueño
Intermediate to Advanced Repertoire
Plus you get these extra bonuses:
Improvisation Techniques for the Cuatro by Fabiola M. Mendez
Guitar 101: Beginner Lessons for Guitar
Tiple 101: Beginner Lessons for Tiple Puertorriqueño
Beginner Guitar Songs
Glossary: Music Terms, Technique and Slang for Beginners